Greynab | December 23,2016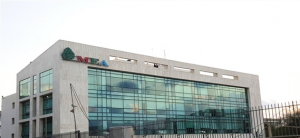 Middle East Airlines held in its Headquarters in Beirut International Airport, on Thursday September 22nd, a guided tour for different Lebanese digital influencers to have a behind the scenes view of how the national carrier is being run and share ideas and inspirations, and cooperate to help promote for a better Lebanon.
MEA indulges in the Digital world
A bit of background. Middle East Airlines was established in 1945 and launched its first service from Beirut being one of the most successful airline companies in the region. The Lebanese civil war greatly distressed the company and it wasn't until 1990 that MEA succeeded in reinstating service to all its previous destinations. MEA continued its expansion ever since and it wasn't until Mr Mohamad El Hout the newly appointed chairman, led the largest restructuring in its history, did the national airlines shift from a loss-making entity to a profitable one by 2003.
As part of its ongoing improvement and directed by the chairman's vision, Middle East Airlines, organized a guided tour for the most prominent Lebanese digital influencers.
The Criteria of Digital Influencers
The criteria for an influencer was a social media opinion leader or blogger, with at least 35,000 followers. The airlines aimed to engage a maximum of 35 people and the names where very carefully selected. Moreover some of the most loyal and engaging fans of Middle East Airlines social media pages, where also invited to the event.
The Event
The event started in the MEA conference room when two of MEA managerial executives Mr. Adib Charif (Head of IT) and Mrs. Rima Mikaoui (Director of Public Relations) introduced the tour and proceeded to watch a short video of MEA's journey from its foundation, during the war and until our present time where it prospers with success. After that, the digital influencers began the tour by visiting the maintenance section and see how airplanes are being maintained to ensure maximum flying safety for its passengers.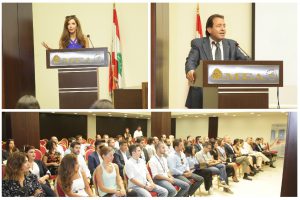 Next the guests were taken to the new training center which is a one of the most advanced training centers in the region and will be soon available to receive pilot's trainees from all around the world. The new center is build according to the highest worldwide standards, and contains an Airbus A320 full-flight simulator and suite of training devices.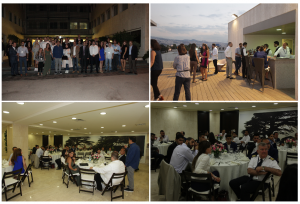 After a brief explanation by a veteran captain from the airline, we met with MEA Chairman Director General Mr. Mohamad El-Hout on MEA's headquarters splendid rooftop where drinks were served and all invitees met with Mr. El-Hout, chatted, took photographs, before proceeding to meet again in the underground hall for a catered dinner. Mr. El Hout opened the dinner with a brief word emphasizing on today's large influence of Digital marketing and Social Media to promote the good image of MEA which is often disregarded by local news media.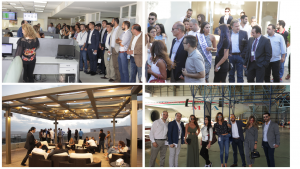 After the tour on some of MEA's facilities, meeting with the staff, witnessing their daily routines and promising futuristic goals, we can firmly state that having an airline company like MEA to represent our nation makes it an absolute honor to call ourselves Lebanese.
28 Influencers Reaching 3.9 Million People
For MEA, it was worthwhile to focus on these highly active and friendly influencers. Here is an approximate estimate of the social media outcome generated from the event:
47 Instagram mentions
39 Facebook mentions
1,452 new Facebook page likes
1,713 new Instagram page likes
72,200 total engagements: 61.4k on Instagram, 9.1 on Facebook 1.2k on Twitter, 1 blog post by beiruting
185,000 views of Facebook Live posts
True Reach: 3.9 million people
Potential ROI (CPE 0.05$): $36,100
Note that the True Reach of the influencers' social updates is not just a simple measure of impressions (sum of their followers). This number is a calculated estimation of the people who actually saw the content on Facebook, Twitter and Instagram. For a company that aims to raise brand awareness, that's a huge win.
Based on the true reach of the content, the exposure was worth for the company about $36,100 (this ROI estimation is based on the average CPM in display advertising, with a 10x multiplier to match it with earned organic content compared to paid).
As this is the first event of its type organized by MEA, it is truly impressing on the success of the event, the high levels of engagement, and the passion that the influencers have for MEA. As was indicated by a member of the MEA staff shortly after the event that they were thrilled with these immediate results in terms of online engagement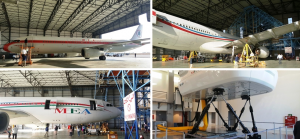 Adding it all up, it was very clear that having a personal connection with the digital influencers and giving them the freedom and access to share their experiences, has proven a great opportunity for the airlines to get effective exposure online.
As can be seen from the company's event, having the right pool of social leaders on your side can boost brand awareness with great return on investment.